When whitewater rafting through jungle rapids is the only route to your hotel, you know your trip is going to be entirely out of the ordinary. Here's a flash-forward of what's in store…
Arrive at San Jose Airport where our driver will take you to Hotel Grano De Oro. You'll be charmed by this Victorian mansion turned world-renowned hotel. Grano de Oro is translated as "Grain of Gold," the local term for a coffee bean. Created as a grand tribute to the ability of such a small fruit to be both valuable and meaningful, the owners of Hotel Grano de Oro renovated this turn of the 20th century residence with impeccable style and a mind toward personalized service.
Think jacuzzi terrace, handcrafted colonial courtyard bar, an award winning wine cellar, and views of the city lights. No stay at Hotel Grano De Oro is complete without dining at its famed restaurant where traditional offerings become culinary masterpieces by French Chef, Francis Canal Bardot. Dine among the tropical plants and Italian tile fountains, ensuring you'll never be far from the soothing melody of falling water.
Now reenter whitewater transportation to Pacuare Lodge, which National Geographic Traveler called one of the World's Best Eco-lodges. "Elevated, thatched-roof bungalows blend harmoniously with the lush canopy, while luxury and comfort prevail inside," Nat Geo writes.
Sheltered within 25,000 acres of protected Costa Rican rain forest, you can rest assured your visit is entirely sustainable. The treetop residences were built with minimal environmental impact and under the instruction and guidance of local farmers and villagers. Local Cabécar indigenous people assembled palm leaves into thatched roofs in the traditional style. Nearly all of the staff hail from nearby communities.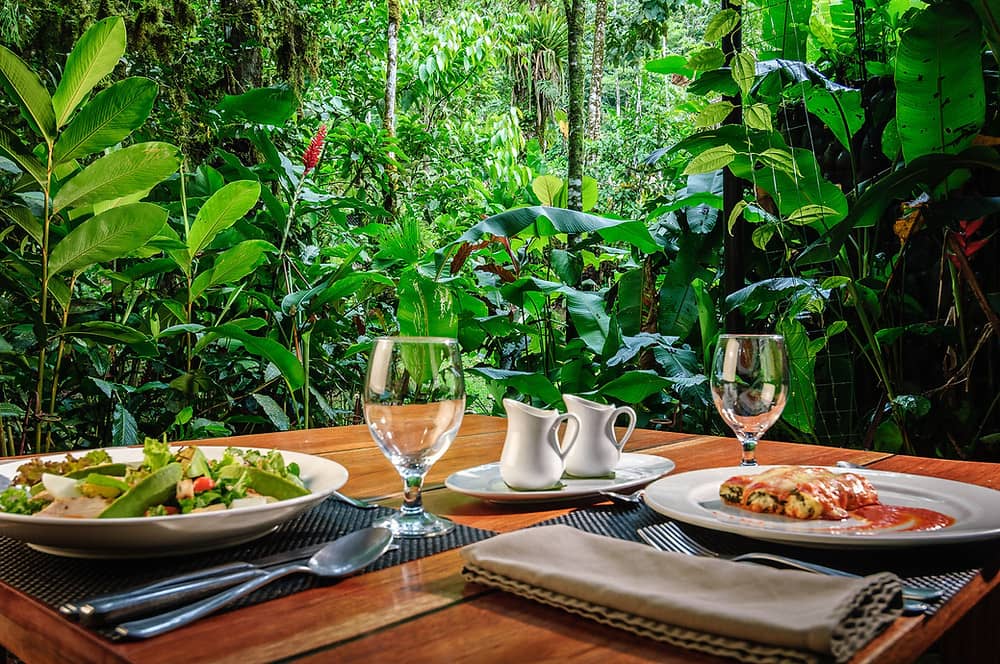 Get connected to your inner rhythm instead of your inbox in these electricity-free bungalows. Candlelit rooms enhance the ambiance of each room and deck. This is socially- and environmentally- responsible utter self-indulgence.
After an evocative day of jungle hikes, canopy tours, waterfall swimming, or world premier river rapids, return for farm-to-table cuisine and wine vintages from around the world. Sipping a cup of truly local Costa Rican coffee is the final touch.
Next embark on a charter flight to Nosara for a four night stay at Tierra Magnifica Intimate Resort. Tierra Magnifica has been awarded with Trip Advisor's Certificate of Excellence for nine years in a row, and has been Costa Rica's highest-rated vacation property since 2011. This Pacific-facing intimate resort is not just home to breathtaking views, it is also located at one of the top 25 rated surf destinations in the world.
A recent feature in the New York Times says, "Nosara has a virtual amusement park of outdoor activities: some of the world's best surfing, stand-up paddle boarding in adjacent estuaries, and, in the nearby mountains, one of the world's longest zip-line tours. But it is Nosara's embrace of an eco-friendly, all-natural, organic lifestyle that rounds out its appeal."
In Nosara, the natural beauty feels completely untouched. Forget the high rise buildings, fast food, and beach bars. Instead soak in the sunset at what the NYT coined as "the anti-resort resort." Tierra Magnifica exemplifies this style of hospitality better than any other property.
Explore undeveloped and protected sand beaches, newborn Olive Ridley sea turtles, migrating humpback whales, and at least 270 types of birds – and that's at Ostional, just one of the four local beaches.
So imagine yourself sipping a glass of your favorite vintage after a sunny and sand-filled day as you relax by the pool. Your backdrop is the setting sun over the ocean horizon. Here you can bask in well-deserved tranquility, and chat about the life-altering experiences of this adventure; an experience crafted just for you and only found with Activated Life Experiences.
Pura Vida,
Steve Jacobus
Founder, Activated Life Experiences
Contact us today to start planning your Activated Life Experience.