Have you ever imagined what it is like to rise with the sun on the Caribbean and set with the sun on the Pacific? To feel the rhythm of the ocean waves, the heartbeat of the rainforest, the breath of a volcano? To capture the vastness of nature's diverse topography and wildlife? What if we told you that in a two week period, you could experience a full awareness of being alive in ways you haven't experienced before.
Embark with us on an ambitious, yet inescapably rejuvenating, 15-day experience from coast to coast and everything in between. Costa Rica is filled with sights, sounds, feelings, and experiences unlike any other vacation you've taken.
DAYS 1 & 2
Kicking off this transformative trip is a stay at the stunning Grano de Oro hotel in San Jose. But what's a visit to the vibrant capital of Costa Rica, without a daytime excursion to view the Poas Volcano?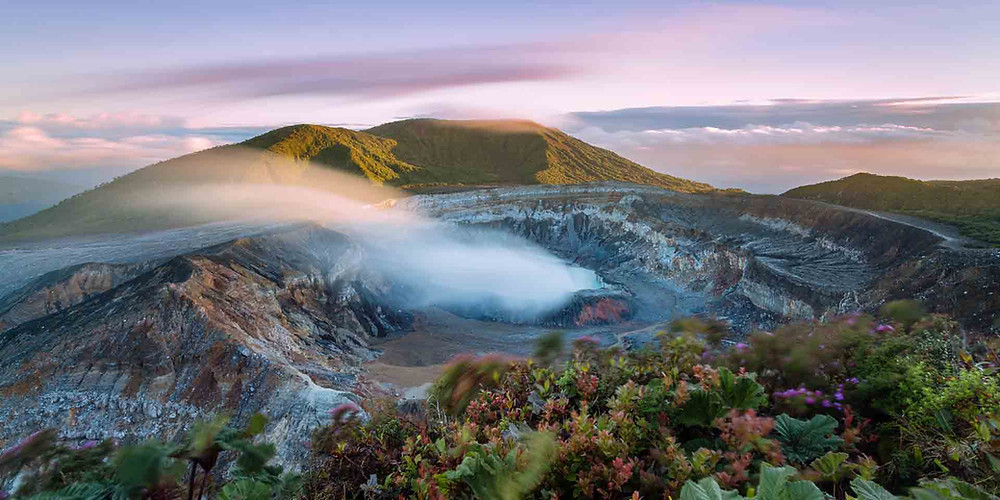 DAYS 3 & 4
Next up we're headed back in time to the sugar plantation fields of the Caribbean side of Costa Rica on a charter flight, where you'll arrive at your new home for four nights at Aguas Claras Hotel. Just as you can imagine, you'll find picture-perfect beaches lined with swaying palm trees and crystal clear, sapphire blue Caribbean waters. A true paradise.
These few days of bliss will consist of a perfect blend of relaxation and adventure. From private Cahuita Snorkeling and Rainforest Hikes, to a private Punta Uva Sea and River Kayaking adventure, and plenty of time for beach-side rejuvenation in between.
DAYS 5 – 7
Days five through seven are packed with once-in-a-lifetime experiences at La Fortuna, home of the mystical Arenal Volcano. Indulge in the sites and sounds of the rainforest and volcano with a stay at the incredible Nayara Springs hotel. This five star luxury boutique hotel is widely recognized for providing premium amenities and ultra-personalized services, with top of the line views of Arenal Volcano.
But why only view it from afar when you can get up-close and personal with a private hike through the Arenal National Forest to the base of the volcano and a lava flow from 1992?
Immerse yourself among the enchanting sounds of the rainforest and thousands of species within it. This relaxing hike will preserve your energy for what lies ahead for the following day — waterfall rappelling with our friends at Pure Trek Canyoning Adventure! Bucket list item, check!
And then sit back and relax in a natural hot spring.
DAYS 8 & 9
Monteverde has a lot to offer, so next up is a ride across Lake Arenal to the cloud forest Hotel Belmar (where you'll stay 3 nights), nestled in the mountaintops of the Monteverde Reserve. And it's sustainable! The majority of produce used in the restaurant is grown locally on the Belmar family farm, known as Madre Tierra. They harvest shade grown coffee beans, craft fresh artisan cheese, and collect eggs from free-range hens. Ready to hear some of the seasonal vegetables produced at Madre Tierra? Avocado, guava, rose apples, yucca flowers, mozote, malanga, tiquisque, bananas, and plantains. Yum!
Imagine the feeling of being alive after a 2.5hr guided Night Hike in Monteverde's cloud forest. As the sun sets you're guided through the mist as the daytime wildlife drift off to sleep, and the nocturnal species awake… Mindfulness has a new meaning in the symphony of sounds that await you on this hike.
DAYS 10 – 15
Next up you're headed to the beach, but this time on the Pacific side with breathtaking views from the award-winning Intimate Resort, Tierra Magnifica in Nosara. Tierra Magnifica comes equipped with sweeping ocean views, a Beach Club membership, top of the line dishes, and the tranquility you deserve.
When you're not busy relaxing by the pool or catching the waves at Playa Guiones, you'll embark on a private kayak tour on Nosara's largest rivers where you'll come across a tremendous amount of natural beauty, while you weave through the mangroves and hear the exquisite sounds of the jungle.
For a final excursion before heading back, we have an extra special cultural experience just for you. Nosara Nature Guides will take you by ATV up to the mountains to Naranjal, where you'll enjoy gorgeous views of the countryside of Costa Rica. Once in Naranjal, you'll receive a private tour of the coffee plantation and farm by a local family, followed by a very traditional hands-on lunch experience where you will be invited to join in on the authentic cooking from start to finish of fresh tortillas and more.
The part about this trip that we love the most is that it gives you a dose of all of the things you want in a vacation. So rather than debating – do I want a relaxing beach vacation? Do I want to have an adventurous experience? Do I want to learn about the culture of another country? Just say I do! You can have it all.
Each of these experiences are included in our Coast to Coast Adventure itinerary. Whether it's a day off to drink a fresh margarita by the infinity pools, or rappelling 3 waterfalls and one rock wall on a Pure Trek canyoning adventure, you've got it.
This Coast to Coast adventure was designed to take you on a transformative travel experience to places unknown and cultures unspoiled, where life is truly Activated. It will be life-changing, we promise.
Pura Vida,
Steve Jacobus
Founder, Activated Life Experiences
Contact us today to start planning your Activated Life Experience.