Every year in Costa Rica, a week before new moon in late July, a special force of nature creates a truly remarkable display that can only be seen in a few places around the world — the 'Arribada' (in Spanish, 'arrival').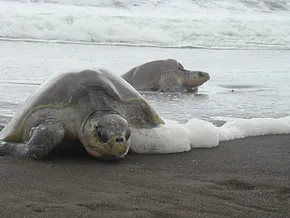 At first a few hundred turtles will come out, then thousands follow in a steady stream over the next few nights. They appear after sunset, coming out of the water to the black, volcanic sand to dig holes for laying their eggs.
Located just north of Nosara, the Ostional National Wildlife Refuge is the second largest nesting site in the world for Olive Ridley sea turtles. Sea turtles lay eggs at Ostional Beach at least once a month all year long, but the masses arrive from mid-June to December. In fact, it was recorded that The largest "arribada" in Ostional took place during November 1995, when nearly 500,000 turtles arrived at one time!
Experience this world famous event when you stay at Tierra Magnifica Boutique Hotel! During your stay, TM can arrange for you to visit Ostional National Wildlife Refuge to witness this natural phenomenon. TM is located in Nosara – just 7 kilometers from Ostional.
Book a room during August and September and we'll include a turtle 🐢 nesting tour with your stay! Email us at reservations@tierramagnifica.com!

To get a glimpse of this mystical phenomenon check out my son William and his Super Natural Adventures video on baby turtles to see what this adventure has in store for you!
Pura Vida,
Steve Jacobus
Founder, Activated Life Experiences
Contact us today to start planning your Activated Life Experience.